The three financial statements – Income statement, balance sheet and cash flow statement are dependent and linked to each other.
Many of our students know about the income statement and balance sheet but struggle to create a cash flow statement. A cash flow statement is a critical part of the financial modeling exercise.
In our previous article, Cash Flow Statement : Explanation and Example we discussed what a cash flow statement is and the different types of cash flows. Cash flows from Operating activities, Cash flows from investing activities and Cash flows from financing activities.
In this article, we will discuss how to prepare a cash flow statement with the help of a simple example.
We have the income statement and balance sheets of ABC Limited for year ended Dec 2019 and Dec 2018.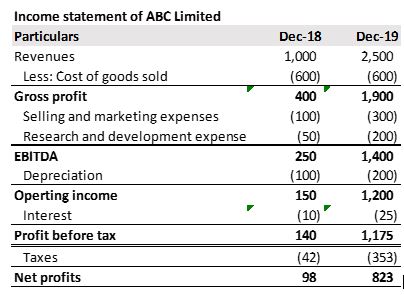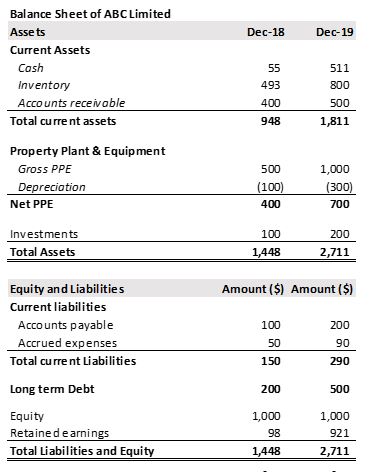 From these financial statements, we are asked to prepare the cash flow statement of the Company.
Cash Flow from Operating Activities
This is the most important portion of the cash flow statement. It shows how much cash flows the company has generated from its business operations.
Cash flow from operations is linked both to the income statement and Balance sheet of the Company.
To calculate the cash flow from operations, start with the net income. Then add non-cash expenses (Depreciation) and financing expenses (interest expenses). For Simplicity we have ignored taxes on financing expenses in our example.
Learn more about Net Present Value's definition & formula with examples
In accounting (learn about basic accounting with examples), the books of accounts are prepared on accrual basis. Revenues recognized during the period may not result in actual cash inflows for the company during the period (if goods are sold on credit). Similarly, goods purchased, or expenses incurred may not result in a cash outflow during the same period (if payment is not made during the same accounting period).
Therefore, it is important to link our cash flow statement to the working capital changes in the balance sheet, which is our second step to calculate the cash flows from operations.
Increase in Current assets (inventory, Accounts receivable) is a cash outflow and vice-versa. Similarly, increase in Current Liabilities Accounts is a cash inflow and vice-versa.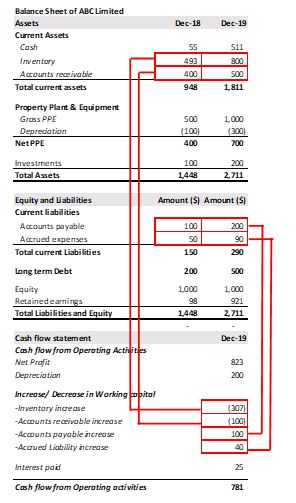 Summing up all these components give us the cash flow from operations, which in our example is 781 for ABC Limited.
Cash Flow from Investing Activities
Cash flow from investing activities shows how much the company has invested in future growth. It is generally negative as it is a cash outflow from the business. This is more linked to the balance sheet of the company.
In our example, cash flow from investing activities would include investment made in Property Plant and equipment and Other investments made during the period.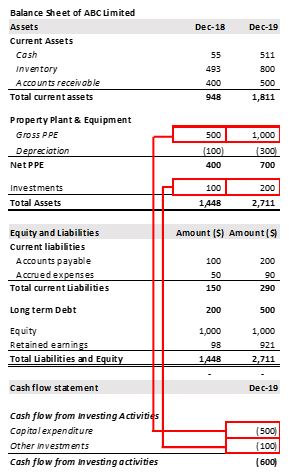 Cash Flow from Financing Activities
This section summarizes transactions that involve raising or repayment of capital. Raising capital could be done by issuance of new shares or borrowing through debt financing. Repayment includes, repayment of debt or share repurchases. This also includes interest payments to debt financiers and payment of dividends to shareholders.
Know more about shareholder return definition & explanation
In our example, no new equity financing has been done during the period. There is additional funding through debt financing. Also, there is interest payment on debt, which we had added back while calculating cash flow from operations.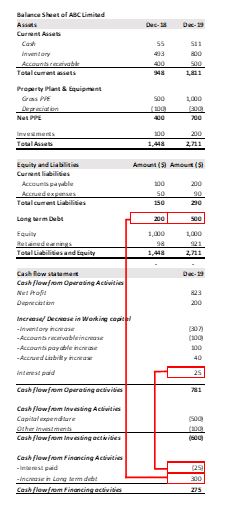 The sum of all the three cash flows give us the net changes in cash during the period. When we add the net cash changes to the opening cash balance, we get the closing cash balance for ABC Limited.
Here is how the full cash flow statement looks.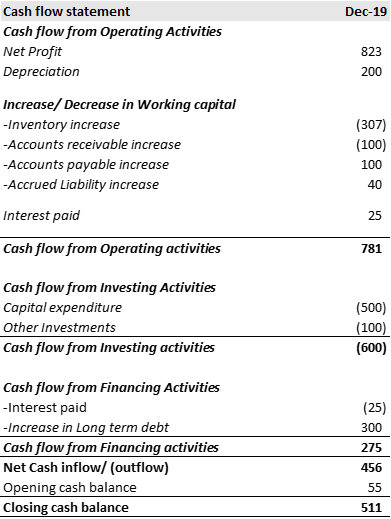 The Closing cash balance matches with the reported number in ABC's balance sheet.
This is how we can easily prepare a cash flow statement, with the information available. In case you have any questions or suggestions, please post in the comments section.
Have a nice day.