The range of technologies that a good big data analyst must be familiar with is huge. It spans myriad tools, platforms, hardware and software.
There are both basic and advanced data analysis and visualization tools. See below for a list of such tools.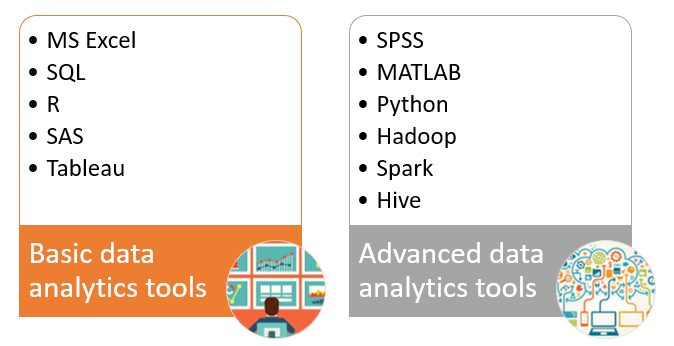 The basic tools included knowledge of Microsoft Excel, SQL, R and SAS. These are spreadsheet based tools that helps in analyzing and deciphering information from large data sets.
On a more advanced level, there are tools like SPSS, MATLAB, Python and Hadoop which uses advanced statistical knowledge as well as programming skills to predict future behavior from analyzing large data sets.
In this article, we are going to focus on Microsoft Excel as a tool for data analytics. It is the most frequently used spreadsheet in today's world that can help analysts to ANALYZE, SYNTHESIZE AND VISUALIZE INFORMATION in a meaningful way.
MS Excel has been in use in the business world for data analysis since 1985. Over time, there are several upgrades that have happened to the tool which makes it the most frequently and widely used spreadsheet in modern day business. Irrespective of whatever role you may be in, it is difficult not to work in excel at some point of daily work life.
MS excel is a comprehensive tool that allows us to ANALYZE, SYNETHESIZE AND VISUALIZE information easily and in a meaningful way. There are 4 broad features in MS excel that makes it very useful for data analysis. See below: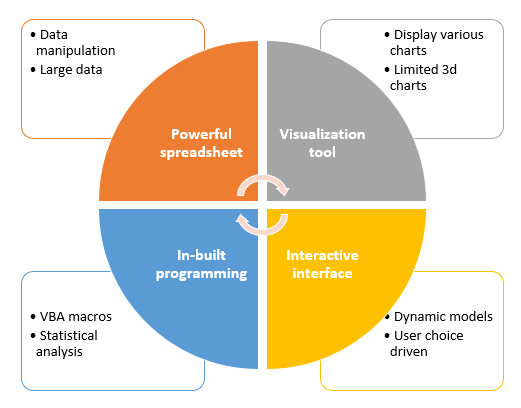 First, MS Excel is a powerful spreadsheet that allows to do almost any level of data manipulation and analysis. As we will see further in the course, there are some basic and advanced excel functionalities like LOOKUP FUNCTIONS, PIVOT TABLES, SLICERS, etc that will help you to play with the data. Not only this, Excel is quite capable of handling extremely large data sets as well. Hence it is quite suited for the job of a data analyst. We like to believe that you can do magic with Excel for the purposes of data analysis and manipulation.
Second, Excel has some great visualization tools that helps to present information in a graphical way. There are basic charts like LINE graph, Column chart, etc as well some advanced charting functions in excel that makes it highly apt as a visualization tool. We are going to look at all of the visualization tools in excel further in the course.
Third and a very important feature of EXCEL is that it allows for creating an interactive user interface so that the user can make a choice of what he or she wants to see. There are some advanced excel functions and functionalities like the OFFSET FUNCTION, list functionality etc. which will help you to make your models dynamic and interactive. We are also going to look at such functionalities in this course.
And Finally, the icing on the cake is that Excel has in built programming functionalities with VBA macros that allows to play with extremely large and complicated volumes of data. There are some in-built STATISTICAL ADD-ins that will enable you to perform statistical regression based analysis as well on large data sets. We are going to look at this feature as well in this course.
As you can see, MS excel is a comprehensive tool that allows for analyzing, synthesizing and visualize large data sets for data analysis jobs. It is the one of the greatest tool that has been built for data analysis purposes.
No wonder, it is used by more than a billion people in their professional work life.