Online learning has come off age. With two major companies now actively trading in the market i.e Coursera stock (NYSE:COUR) and Udemy stock (Nasdaq:UDMY), it is now widely accepted that online learning is here to stay. Interestingly, till August 2023, both of them have fallen quite a bit from their initial listing price probably reflecting taming down the expectations in a post-covid era.
Lets see some statistics here:
During its IPO in April 2021, Coursera priced 15.73 million shares at $33 per stock. In the IPO offering, it raised $520 million at an implied valuation of USD 4.3 bn. Interesting the stock gave a listing gain of 36% closing on the debut day at $45 per stock. In fact, it even went as high as $58 per share on April 7, 2021. However, since then it has corrected quite a bit and is currently trading at $16.61 per stock as the closing price on August 28, 2023. The current market capitalization for Coursera is around USD 2.4 bn as of August 28, 2023. See the chart below for more details on the stock price movement: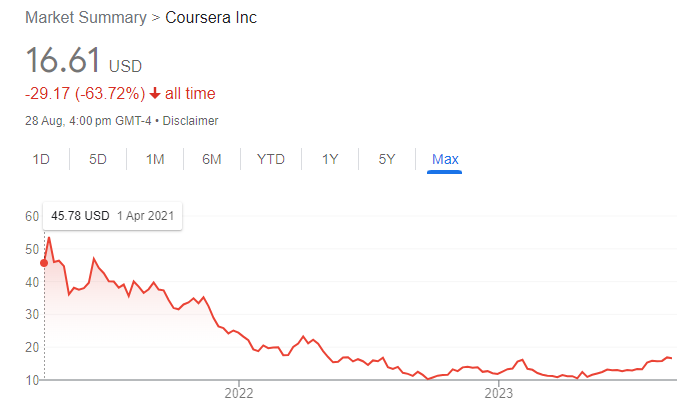 Following Coursera, Udemy sold 14.5 million shares at $29 per stock as IPO fundraising of USD 421 mn during October 2021. Incorporating the total diluted shares, the total implied value of the company was around USD 4.3 bn almost similar to Coursera. However, unlike its most prominent competitor, it fell on its listing day. The stock declined 6% on debut to list at below the issue price. Since then, the stock has been declining like its competitor currently trading at USD 10.33 per stock closing price as on August 28, 2023. Current market valuation for Udemy is around USD 1.55 bn as on August 28, 2023. The chart below provides more detail on the stock price movement: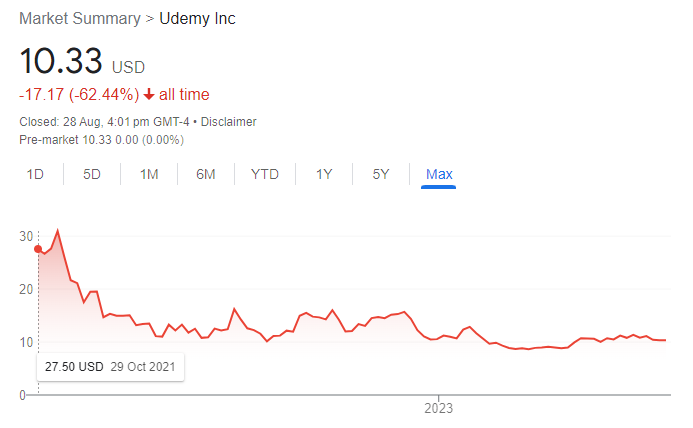 As can be seen from the graphs above, both Coursera stock and Udemy stock have declined considerably since its IPO. While Coursera stock market value has declined 44% from its initial price, Udemy stock has fallen by 65%. Clearly, the covid era expectations of online learning growth potential has tapered off considerably and in hindsight it is clear the IPO listing time valuations were not sustainable.
But what about the future? Which of the two stocks look better from a financial analysis perspective. Let us look at the performance of these 2 companies on a few important operational metrics. Beyond the short term trading data, what is important to look at is the long term potential of each of the company from a financial analysis perspective. Long term investors would look at the potential cash flows each business can generate and decide accordingly which stock would be better to hold currently.
Lets compare the financials on each metric one by one.
1. Revenues:

Note: FY 2023 revenues has been annualized based on H1 2023 data.
Data source: Udemy and Coursera investor filings
Udemy is clearly a bigger company in terms of revenue at an FY 2023 run rate of ~USD 709 mn. Coursera on the other hand is a almost 14% lower in size than Udemy at FY 2023 H1 annualized revenue of USD 603 mn. While both companies grew aggressively in FY 2020 and FY 2021 given the pandemic that happened for most part of the year, revenue growth has slowed down for both of them especially in FY 2023. They are now reverting to a mean revenue growth of 13-15% which is what looks like a sustainable growth rate going in the future. This is also one of the reason why the valuations have corrected for both of these companies since its listing as we were discussing earlier.
2. Cost of Sales :

Cost of revenues relates to the fees that these platforms need to pay to the educational partners and instructors as well as the expenses associated with the operations of the platform. In FY 2023, Coursera has a 48% cost of sales which is higher than Udemy at 43%. That is clear difference of 5% operating margins between the two companies which gives Udemy an edge on this metric.
3. Sales & Marketing:

In FY 2023, Coursera sales and marketing expense was way lower than Udemy. This may be due to the fact the students get a certificate from a recognized university on completing their courses on Coursera. That may be perceived as a valuable feature from students perspective. Udemy on the other hand does not provide an accreditated certification and therefore might have to spend a lot on convincing students to purchase. This lower sales and marketing spend speaks to the superior business model for Coursera stock vs Udemy stock and as such Coursera is a winner in this. Also look at the gap in the numbers with Coursera being 16% percentage points lower than Udemy.
4. Research & Development:

R&D expenditure is a good investment to fuel the future growth in the business through innovations. However, it needs to translate into superior revenue growth for both the companies. Surprisingly, Udemy does way too little on R&D as compared to Coursera. In FY 2023, while Coursera's R&D expense as % of revenues was very high at 35%, Udemy's was significantly lower at just 17%. While R&D expense helps to build long term innovation in this segment, yet there is a huge difference between the two companies on this front. Also we do not see Coursera having any revenue advantage due to the higher research and development expenditure than Udemy. As such, we will give it to Udemy for being ahead here. Also, notice the gap of almost 18% that Coursera has with Udemy which means the advantage in sales and marketing spend is probably being off set by the higher R&D expenses. This also gives us an indication that while Coursera is an innovation led company, Udemy on the other hand is a sales and marketing driven business model.
5. General & Administrative Expenses:

General and administrative expenses consist primarily of personnel and personnel-related costs, including stock-based compensation and costs related to legal, finance, and human resources departments, as well as indirect taxes, professional fees, and other corporate expenses. On this front as well, Udemy is doing better than Coursera in FY 2023. While for Coursera, G&A as a % of revenues is 17%, for Udemy it is lower than that at 14%. So Udemy scores on this front as well.
6. Profitability Margin:

Interestingly, both Coursera and Udemy have negative profitability margins currently. While given the high R&D expenses, Coursera's FY 2023 operating profit margins (EBIT %) is at -28% and Udemy is significantly better than that -18%. So there is a huge differential there in terms of the margins between the two companies. Udemy is a clear winner although both are at negative margins given their cost structure. Another point here is to note that while Udemy has improved its margins gradually from FY 2019 to FY 2023, Coursera's margins have deteriorated slightly over the years.
7.Risk Perspective:
Both Coursera stock and Udemy stock have been quite volatile in their daily trading movements as can be seen in the share price charts we showed in the beginning of the analysis above. As such, the relative risk of the two stocks also need to be analysed from a market perspective. This is something that we can infer by calculating the "beta" of the two stocks – i.e. Beta (β) is a measure of the volatility—or systematic risk—of a security or portfolio compared to the market as a whole (usually the S&P 500). Stocks with betas higher than 1.0 can be interpreted as more volatile than the S&P 500.
Since their respective IPO, we calculated the beta of Coursera to be around 1.5 and for Udemy to be around 1.4. While they are indeed much more volatile stocks compared to S&P 500, Coursera seems to be slightly more risky compared to Udemy. This is again something that should be kept in consideration for our overall analysis on which stock to buy.
Result : The Financial Scorecard:
Based on the discussion above, if we have to give a scorecard on the financial parameters to the two companies, we would conclude:
Coursera stock has a significantly lower Sales & Marketing spend than Udemy stock in FY 2023.
Udemy stock is doing better than Coursera from a overall Revenues, Cost of Sales, Research and Development and General & Administrative expenses standpoint in FY 2023.
Coursera and Udemy have similar revenue growth in FY 2023.
On overall EBIT margins, Udemy is ahead of Coursera in FY 2023.
In terms of risk assessment, Udemy is slightly less risky than Coursera.
Based on the above analysis, we would conclude that from a financial performance perspective, Udemy stock to be a better candidate than Coursera stock given it has better financial performance i.e. similar revenue growth, better margins and lower risk. Of course, both companies will need to show the path to profitability sooner than later.
Valuation Perspective (as on August 28th, 2023):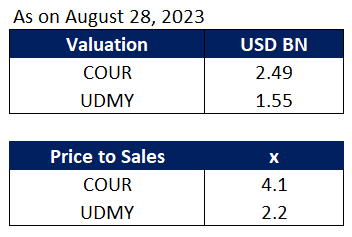 Based on current trading value as on August 28 2023, Coursera stock is valued at USD 2.49 bn while Udemy stock is lower at USD 1.55 bn. At this price, the implied Price to Sales valuation metric for Coursera is higher at 4.1x than Udemy at 2.2x. Clearly, Udemy's valuation is almost 50% lower compared to Coursera currently.
Given our analysis so far, we would be in favor of concluding that Udemy stock presents a better buying opportunity currently compared to Coursera stock.
However, we still have to put a disclaimer that our analysis is purely for educational purposes and is not meant to be used for your individual trading or investing recommendation. We do not recommend you to take any position based on the above analysis.