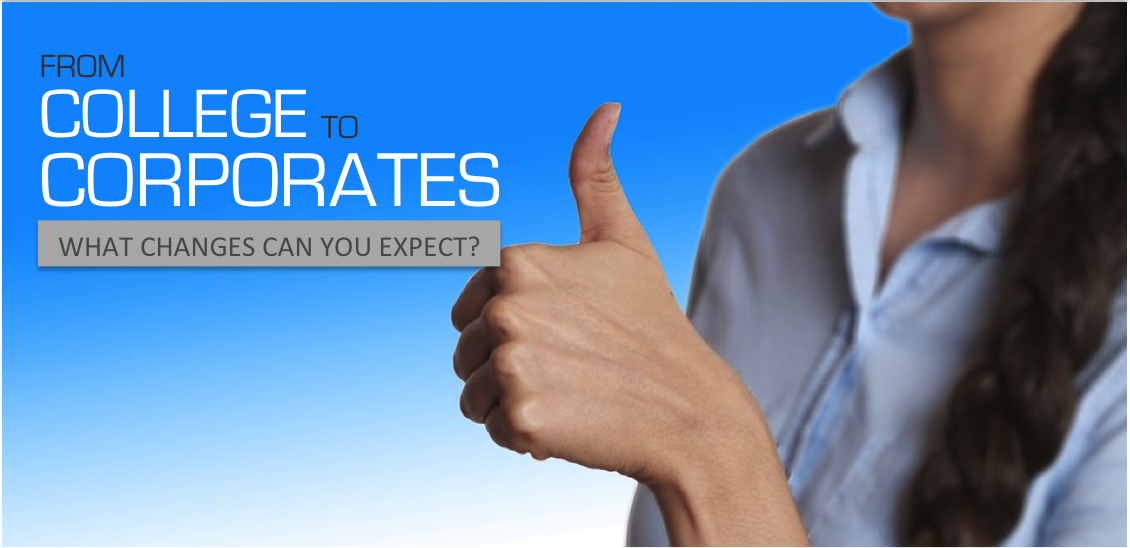 College life is always a lot of fun. You will meet new people, make friends, meet your soul-mate (if you're lucky), party all night long, go on trips across the country and have a wonderful time.
Yes, you will also learn something in class, and get a degree for that. But does that really prepare you for life in the corporate world later?
Don't get us wrong – but it's good that you had fun in college. Everyone should. You probably learned your lessons well in college as well. However, did you pick up any industry relevant skills?
Here's the thing…
Graduating from college and having a degree does not entitle you to a job. Even having an excellent academic record doesn't mean you're going to excel at your job going forward.
Employers don't just look at your academic record – they want to know about your skill-set, and work experience, if any. That is more important to them.
The corporate world can be really brutal. There, every employee, from top to bottom, has to prove their worth every day. You must show that you are worth the salary and perks your company pays you. If you can't do that, you will be out of a job soon.
Moving from College to the Corporate World – The Biggest Challenges
Dealing with criticism
You were probably a star in college. You had a highly protective environment there, and spent most of your time with friendly people. The corporate world is different. Prepare yourself for the barrage of criticism that will be directed at you from day 1.
Every mistake you make will be picked and relentlessly dissected. If you have a short-tempered manager or project leader, then good luck! But that doesn't mean you should just quit.
You should brace yourself for the tough times and learn to deal with the criticism. Remember: It's not personal. Everyone is under a lot of pressure to perform and get results at a corporation. It's not just about you.
Lack of Real World Work Experience
It's not your fault if you lack real world work experience when you venture out into the corporate world. After all, you're fresh out of college. Still, that is no excuse. Even in college you should have picked up work experience wherever possible. Otherwise, this can hamper you later when you land your first job after graduation.
You could have worked as an intern at a local bank or as a cashier in a big retail store on a part-time basis. Every job is important and teaches you something valuable, whether it's how to talk to customers, how to make a sale, or why it is so important to be disciplined and focused. More importantly, it teaches you humility, time management and financial management.
Not Having the Right Skills
Just because you have the right degree doesn't mean you have the right skills to succeed in the workplace. Colleges don't equip students for life in the corporate world later. Fact is, much of what you study in college is outdated and was probably written more than a decade ago.
Skills play a really important role in a professional environment. Each job has its requirements therefore it is always important to inherit some effective skills as it not only makes you competent for a position but also helps you in the long run. Wherever you go for a job the requirement for hard skills remains unchanged.
The requirement of professional skills remains unchanged regardless of the corporation, people, or working environment you work in. From the point of view of employment, everyone prefers specialists in certain skills as it is a primary choice and they often play an asset in the company with these effective skills.
FINANCE SKILLS-
Financial skills are important because it equips us with the knowledge of how to handle our money or finances and helps us take effective final decisions which will actually help us in the long term. Lack of financial skills often leads to dire situations as it puts us at the risk of losing the company's money and leading them to a crisis.
Top financial skills for every professional ate as follows:
Analytical thinking– Finance experts need to be able to think analytically. It refers to analyzing and comprehending a situation in order to interpret it and come up with a thinking and educated answer. When analytical thinking and problem-solving are your strong suits, you can rapidly come up with innovative solutions that will benefit the firm, making you a very valued asset.
Risk analysis, risk management, strategic financial planning, financial analysis, and data analysis are some of the areas where analytical thinking is crucial.
Business intelligence- finance specialists are critical in assisting organizations in making sound judgments. They must be able to forecast future inventory, sales, and associated data in order to make sensible and well-informed judgments and decisions. This is why businesses want employees who know how to use enterprise resource planning software such as Oracle or SAP which is idle for managing inventory, assigning labor hours, and so on.
Financial modeling- financial modeling is the practice of using abstract approaches to depict a real financial situation. Financial modeling is the process of creating a mathematical model that portrays and assets of portfolios' financial performance over time.
Cash flow management- after deducting cash expenses, cash flow management is the process of evaluating, monitoring, and maximizing the cash receipts a business receives. Cash flow management helps businesses manage their finances and focus on their growth by tracking the ins and outs of their funds.
Mathematics- there are several applications for mathematics ranging from data management to financial analysis. Financial analysis, data management, predictive analysis, and accounting are just a few of the disciplines that require a thorough understanding of mathematics. It is an essential skill for all financial positions. If you have high calculative skills and comprehend most mathematical principles it would be easier to build strong analytical skills.
MS Excel-
You need these basic Excel skills listed down below that most of the recruiters bronze to have in candidates.
Data Filters- if you do not know how to work with the data filters will be at a disadvantage when you will be applying for jobs. Data filters can quickly sort, hide, and find specific pieces of information in a spreadsheet in no time.
Data sorting- Excel data sorting feature makes it simple to organize the information in your spreadsheets. For instance, you can sort things alphabetically or in reverse order. This is a difficult skill to master because you can accidentally sort one row or column but not the other which can result in a spreadsheet mess. These tricky moves are the reason why a well-organized Excel course is necessary.
COUNTIF/COUNTIFS- counting the number of cells in a range that meets one or more criteria is possible with the Microsoft Excel COUNTIFS function. COUNTIFS is available as a worksheet function that can be used in a formula in a worksheet cell. These Excel skills may be foreign to you at the moment but they will become second nature to you following well-structured learning.
Excel Shortcut keys- knowing how to use shortcut keys in excel will help you finish your work much faster. Rather than using a mouse to navigate, these keys can be pressed directly from the keyboard.
PowerPoint skills-
Here are some of the basic PowerPoint skills that everyone should know because PowerPoint is that software that everyone in the workplace has to use one way or the other-
Adding animations to the slides- to make your presentations more engaging, consider using animations and transitions. This is an addition to allowing multiple objects in a slide to be displayed sequentially, which allows you to concentrate on a single object before moving on to the next. A static slide will never give you the same engaging result. Thus, the skill of adding animations is the crucial one.
Adding videos- adding videos to your PowerPoint presentations can be a powerful skill. They serve as an amazing strategy to grab the attention of the audience. Adding videos means briefing down the content which is a positive aspect that helps in engrossing the audience and becomes simple while presenting.
Adding pictures- adding pictures to your flight can also increase the attention of the audience while you are. This is a very basic skill that everyone needs to learn in whichever domain they are in. You can add a photo album of multiple pictures, you can also add slide background images, individual photos, layout, shapes filled with pictures, and so on.
Using professional templates- there are various beautiful templates available online which you can make use of. These templates help you to easily modify and make your branding more simple. It helps you change colors, fonts, graphics, and even your own logo. The templates available online also provide quick customization that means they are easier to edit in the original form as well. The templates make you form a similar pattern from beginning to end thus creating a consistent designing scheme. This will also help you avoid and filter out unnecessary transitions.
…Which is why you have to look elsewhere to pick up the right skills, such as at online learning platforms like SKILLFIN LEARNING.
SKILLFIN LEARNING is a leading provider of job oriented online courses targeted at college students and busy working professionals. You will get practical and on-the-job like training and learn valuable skills that are relevant in the industry.
Already, more than 25,000 learners from over 165 countries have enrolled in our online courses. Why don't you join us as well?
P.S. Please log in to provide your comments