Yes Bank is the fifth largest private lender in India. It accounts for approximately 2.3% of total bank loans and 1.6% of banks deposits domestically. RBI has recently imposed a moratorium on the bank. It has imposed a withdrawal limit of Rs 50,000/- for depositors. This has led to several challenges with the investors as well as depositors.
Crisis at Yes bank has led to fears with depositors, investors and the financial ecosystem. Failure of the bank may lead to severe financial crisis in India and thus further slowdown in the Indian economy.
News of bank's poor performance is not new. We have been hearing this for more than last 2 years. Yes banks share price collapsed by 90% plus since March 2018 (see below), destroying wealth of its investors. What are the reasons behind banks failure? What led to this value destruction for the investors? Lets briefly discuss this.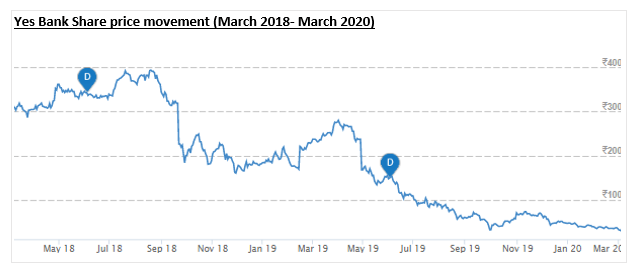 Poor Corporate Governance – Yes Bank had several Corporate Governance issues; weak compliance, non-disclosure and wrong asset classification together with risky credit decisions.
In past several months, Bank's board members, independent directors have resigned citing corporate governance issues which were early bad signals for investors.
Risky loan book – Yes Bank has aggressively given risky loans (having high interest rates) without considering the borrowers ability to repay it to the bank. Some of the names include; IL&FS, DHFL, Reliance (Anil Ambani's account), Café Coffee Day, Cox & Kings, Jet Airways, Vodafone.
Some of these Cos. (DHFL, R. Com) did not have repayment capacity and have already filed for Bankruptcy. Few others like Vodafone are finding it difficult to survive and have already given signals of bankruptcy.
Banks Gross NPA'S account for 7.39% (Q2 2020 Vs 5.01% in Q1 2020) which is one of quite high for any private lender.
Poor disclosure – During Rana Kapoor's tenure as CEO, Gross NPA figures reported by Yes Bank to investors were manipulated to hide actual picture from employees, shareholders, depositor and the government.
RBI had found divergence in bad loan reporting during the financial year 2018 and 2019 and had ordered its CEO to leave the bank by 31st Jan 2019 to improve its governance.
Lack of capital – Bank was finding it difficult to replenish its equity capital which was barely above the regulatory limit of 8%. It was trying to raise capital since last few quarters but without success. There were news that several investors were considering to invest $2 billion in the bank, but none of it materiallized making its survival difficult.
Given the challenging economic scenario (falling GDP growth, unemployment etc), the market led revival was also difficult for the bank.
Government of India along with the Reserve bank are putting together a rescue plan for the bank by bringing in State Bank of India which is expected to pick 49% of Yes Banks stake. RBI expects to bring up the revival plan for Yes Bank within 30 days
While there is no respite for Yes Banks shareholders. Time will tell whether depositors will keep their faith with the Bank.
In our earlier blog, we had discussed criteria's an investor should look for while making investment decisions; Industry/Market momentum, Fundamental performance, Quality of management to name a few. Equity investors should do proper due diligence before making any investment decision. Bottom fishing just on the hope of rebound in performance is not the best strategy for long term investment.
Do you want to learn Value Investing from an Expert in Valuation Analyst skills?
Then sign up for The Valuation Analyst Skills Training (VAST) course at SKILLFIN LEARNING.
You will learn how to assess the business model of a company, analyze Annual Reports, create proforma standardized financial statements and valuation models, forecast future financial statements, extrapolate financial ratios and much more.
This course can help you in your quest to get a job as a financial analyst. It is also targeted at working professionals who want to learn value investing to make more money in the stock markets.
Good luck, keep learning!!