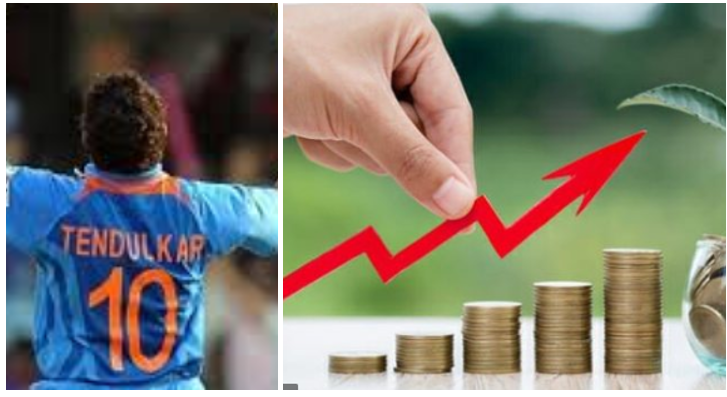 "IF YOU WERE BORN POOR ITS NOT YOUR FAULT. BUT IF YOU DIE POOR ITS YOUR FAULT."This is a famous quote from Bill Gates.
Every one of us want to become rich.
We may at times buy lottery tickets to test our luck…
People also go to Casinos for gambling… to change their fortunes.
I know many people who take high risk in stock markets to become wealthy quickly. Without doing proper research, they invest in stocks based on someone else's tip or invest in Penny Stocks or Take high risk by investing in derivatives.
We often hear stories of people losing their entire life savings by making wrong investment decisions.
Investing in stock markets is not a 20-20 cricket, where you can hit the ball out of the park in the very first ball. It is like a Test match. One has to play long innings to become wealthy.
I find a lot of similarity between value investing and Test match cricket.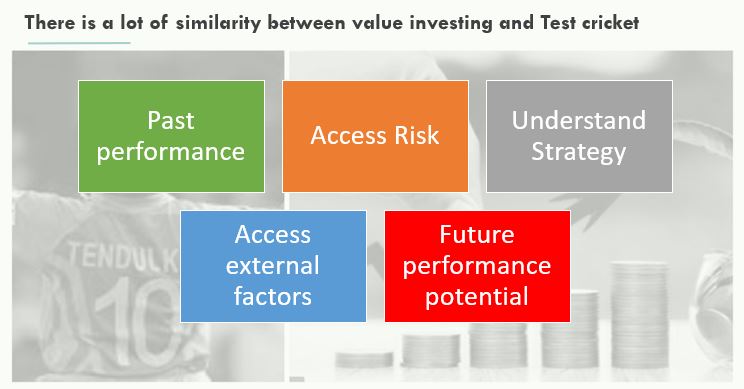 A test captain understands the strengths and weaknesses of players before selecting the playing eleven. Similarly, a good investor does a proper due diligence before deciding whether to invest in a selected company.
Let us under the similarities one by one.
Historical Performance
In test match, the captain looks at the historical track record (batting/ bowling averages) of his players.
Similarly, the first thing a successful investor looks at is understanding the business and Historical Financial Performance of the target company. Analyzing historical financial performance helps him understand the business of the Company and how it has performed on Growth, Margins, Return on invested Capital.
Access Riskiness
A test captain accesses the risks how a player would perform under pressure. Whether a bowler should be given long or short spells. How a batsman would bat with the middle and lower order. Whether to send a night watchman or main batsman towards close of days play.
Similarly, the investor analyses the riskiness of the balance sheet by looking at cash flows, liquidity, leverage of the target company. This would help him understand if the company would default when put in an unfavorable environment under liquidity pressure.
Understand Strategy and management
A good test captain tries to understand the strategy of the other competing team, their performance in the given condition and their hunger for victory. This helps him strategize his game better.
Similarly, an investor looks at the Company's management and Strategy. He looks at the management history and their performance track record. This would help him determine their hunger for growth. Great management can take a Company performance to Greater Heights. Example is Mr. Mukesh Ambani of Reliance Industries, Mr. Jeff Bezos of Amazon.
Access External Factors
A test Captain tries to understand the Pitch, Ground and Weather conditions before making the final eleven selection just before the match.
Similarly, in investing the Industry is the pitch, Economic Scenario and Government regulations arethe Ground and Weather Conditions. These factors help determine the market momentum behind the stock price performance.
An example is the Airline, Tourism and Travel industry which suffered the most due to Covid 19 crisis. While Pharma and High-Tech industry gained the most.
Access Future performance potential
A good test captain invests in a player where he see's good potential and can help him win matches in the future. For example, Saurav Ganguly supporting in Yuvraj and Harbhajan Singh and M. S. Dhoni supporting Ashwin and Jasprit Bumrah.
Similarly, an investor has to understand the future performance potential of a company which can create wealth for him over long term. Like, Warren Buffet investing in Coke in 1980s and Rakesh Jhunjhunwala in Titan in early 2000.
Understanding business potential helps forecasting future cash flows which is important for business valuation
These are a few mantras to become a Great captain of a Great Test Team and to become a Great Investor.
As said by Warren Buffett. "It's not easy to get rich quick."
But if you make take a disciplined investment approach be assured that "YOU WILL NOT DIE POOR".
Do you want to learn Value Investing from an Expert in Valuation Analyst skills?
Then sign up for The Valuation Analyst Skills Training (VAST) course at SKILLFIN LEARNING.
You will learn how to assess the business model of a company, analyze Annual Reports, create proforma standardized financial statements and business valuation methods, forecast future financial statements, extrapolate financial ratios and much more.
This course can help you in your quest to get a job as a financial analyst. It is also targeted at working professionals who want to learn value investing to make more money in the stock markets.