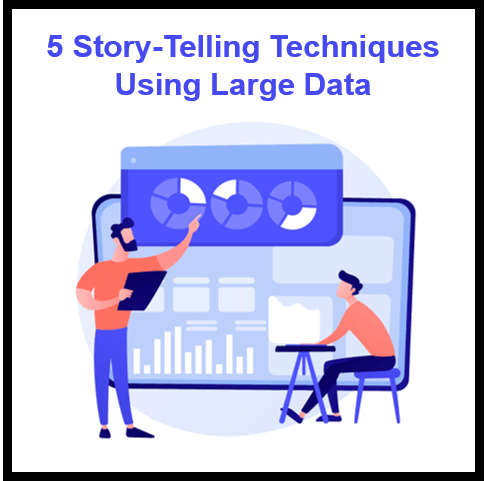 5 Storytelling Techniques Using Large Data
There are many stories that can be told using large data sets. Data is collected by businesses and organizations, it comes from social media, it can be found in government records and tracking systems, and much more. The potential for storytelling with large data sets is endless. Here are some story-telling techniques to help you make your data tell a story.
1) Social Media Data
2) News Storytelling
3) The Emoji Story
4) Amusing Visualization of Data
5) Infographics
Social Media Data
One way to tell a story with large data sets is through social media data. You can use social media platforms like Instagram, Twitter, Facebook, or any other platform you have access to to collect this information. Take some time to see what people say they like or dislike about the company's products and services on their platform. You could also take the time to look at the most recent posts made by your competitors in order to determine what they are doing right and wrong (if anything).
Social media data is a type of data that can be analyzed and used to tell stories. By analyzing posts on social media, businesses can see how people are interacting with their company. They can also see what trends are happening in society and more. Analyzing social media data is an excellent way to get a better idea of what your customers need from you.
News Storytelling
Another technique for storytelling with large data sets is through news storytelling. News stories can be used as examples of how companies are handling their customers, use as a comparison between companies' responses, or just an example of how big data is changing society in general!
This technique is a lot like traditional journalism, except the story is not being told to a central audience but rather to a wide audience. Data can be found in newspapers, magazines, television news broadcasts, and more. This story-telling technique is best used when you have something that has happened recently and you want to put it into perspective.
For instance, take the recent shooting at Marjory Stoneman Douglas High School on February 14th. The data used for this storytelling technique would be from social media posts that were made during or after the event. You could use that data to create headlines about how people are reacting to the events of that day as well as look for any patterns in how people responded to the tragedy. There were many different viewpoints on this event, so you could also find different opinions with this data set to create a story about how society reacted overall.
The Emoji Story
The Emoji Story is a story about how people are telling their stories through emojis. Facebook data shows that the number of emojis used in posts has increased by over 40% since last year. In this case, the key word is "story" because people are using emojis to tell a story, they're not just using them as a way to express emotion during text conversations.
Using emoji's in your company's marketing campaigns is a fun way to tell a story while still getting your message across. For instance, adding "smile" or "happiness" on all of your advertisements would let people know that you care about them and appreciate them enough to offer them something which makes them happy!
This data supports the idea that people use emojis to convey emotions, but it also tells us that they're also using them as a way to express themselves on social media. This means that we might see more and more stories told through emojis if we continue to use them like this.
Infographics
Infographics are quickly becoming a popular way to present data. Infographics were first used in the 1800s, and they were considered a variant of data visualization. Infographics typically use charts, diagrams, and photographs to present data. They have become increasingly popular over the past few years because they are accessible and visually appealing. Additionally, infographics are effective because they can communicate complex information in a manner that people can easily understand.
Infographics usually contain three parts: an introduction, main content, and conclusions/resources for further research. The introduction should introduce the topic of the infographic using keywords or phrases that summarize the topic.
The main content goes into detail about the topic being presented in an easy-to-understand manner with visuals and text overlaid on images as well as text descriptions of those images/data points. The conclusion is often where infographics offer resources for further research on that particular subject.
Infographics are visual representations of data that help tell stories with only words. There's something about infographics that makes them more interesting than just plain old text and numbers.
They're usually more creative, fun to look at, and can be shared widely via social media channels like Facebook and Twitter. Infographics do not have to be complicated – they can be simple charts or graphs that summarize key information and present it in an eye-catching way.
Conclusion
Data analytics is a branch of statistics and computer science that uses software or mathematical models to organize and analyze large sets of data in order to identify patterns or trends which then can be used for business purposes.
Data analytics helps organizations make better decisions with the vast amount of information they generate every day.