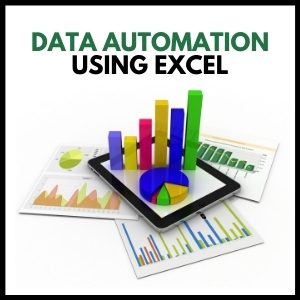 Data Automation Using Excel: A Step-by-Step Guide
Excel has been around for more than 30 years now, and it still remains the best tool for data automation. Entering data is a laborious process, which takes up a lot of your time if you do it manually.
Instead of getting stuck in the sort of grunt work that adds no value whatsoever to your organization, use Excel instead. Excel is one of the best tools out there for improving workplace productivity.
It can be used to automate any data entry project, so that you can complete the entire task in minutes, rather than in hours or even days, as you would, had you done the same manually.
Let's discuss how to use Excel for data automation.
#1: Merging Outside Data with Excel – The thing about Excel is that it has been around since dinosaur age as far as the software industry is concerned. So while there have been many other data spreadsheet software programs that have come up since then, their developers have made sure that they are all compatible with Excel. So you can easily import or merge data from different data spreadsheets onto Excel.
#2: Using Excel to Generate Automated Reports – Excel is the best way to generate automated reports for your clients or management. It not only captures the data, but also allows you to present the same in a professional manner, so that anyone reading your reports will know exactly what the data means. Excel automated reports are easy to generate and allow you to sort the data anyway you like – in the alphabetical order, by city or country, and so on.
#3: Excel Allows You to Make Sense of the Data – Excel simplifies the process of data collection and storage. Also, it allows you to analyze the data and a run a series of tests so that you will get the answers you're looking for. For example, Excel sifts through the data and tells you just how well a product is doing in the marketplace; the cost projections for the upcoming financial year; what the organization needs to do to meet its yearly targets, and so on.
#4: Excel Can Hold Any Amount of Data – Excel is fully capable of holding high volumes of data. There are no restrictions to the amount of data that can be transferred to an Excel spreadsheet. You don't have to worry about losing any data for want of space.
#5: Excel Saves Time and Money – Since Excel allows for data automation, there is no need to hire a dedicated in-house team for just data entry related tasks. Nobody needs to copy and paste the data manually. Data integration on Excel takes hardly a minute or two – which saves not only your time, but money as well.
Finally
Knowledge of Excel is a must if you want a job as a data analyst, financial analyst, or for that matter any job in the banking and financial services industry. At SKILLFIN LEARNING, we have a number of online courses for those who want to master Excel. Do have a look!
P.S. Please log in to provide your valuable comments