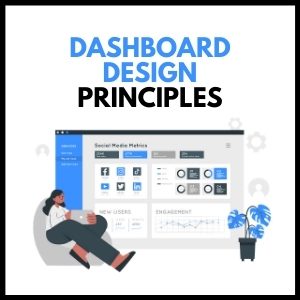 Dashboard Design Principles: Best Practices and Tips
A dashboard is a visual representation of data. Dashboards are prepared to communicate the insights from the data through charts and graphs and help the users make better and informed decisions.
Normally analysts spend a lot of time in cleaning data, consolidating, summarizing, and analyzing data. Not much time in spent on data visualization. Data visualization is as important as data cleaning and analysis. Data visualization through dashboards helps articulate a story and connect the data with business context. It helps answer different questions and improves decision making.
It is important that the Dashboards are properly designed and deliver appropriate information. Poor dashboards could fail to convey useful information required for making important decisions.
In this article, we will layout a few qualities of a good dashboard.
Easy to Understand
Information provided in the Dashboard should be easy to follow and understand. A Dashboard should make the complex information crisp and simple.
Consulting Companies usually follow the 10 second rule while assessing a presentation slide or a chart. In this rule, the audience should be able to scan and grasp the information provided in the chart within 10 seconds. If the dashboard does not fulfill the 10 second rule criteria, then there is an issue with the dashboard layout.
Do not put too much information on a page. Over information may lead to confusion. Keep the target audience in mind while structuring your dashboard. For example, the information requirement for a Finance specialist may be different from a marketing specialist or an HR employee.
Select the relevant metrics
A Dashboard should display the metrics or Key Performance Indicators (KPIs) which are most relevant to the business and audience needs.
For ex. Looking at Same Store sales growth, Digital Revenues, Average Revenues per square feet are some of the metrics looked at by Retail Companies. Similarly, Loan book growth, Current Account Saving Account (CASA Ratio), Net Interest Margins (NIMs), Non-Performing Assets (NPAs) are some of the metrics looked into by banking and financial companies.
(Check out our lectures on financial modeling online course)
Similarly, and HR employee may be interested in number of FTEs, Average FTE cost, Training completion rate, feedback score etc. This information may be of less or no relevance to a Sales and marketing expert.
Choose the right visuals
Quite often, we spend a lot of time in data analysis. It is important to choose the right charts and visuals along with the right analysis. If the visuals are not correct it is difficult to communicate the correct story.
Here are a few examples.
Bar Chart can be used to compare data across time frames (Example – revenue per employee, Cost per unit etc.).
Line Chart can be used to show evolution of one or more variable (sales growth, margin etc.) over time.
Pie Chart is generally used to show breakup of data by proportion. Entire pie represents 100% of the variable (Example Employees by segment or geography).
Know more about Data analysis and reporting with help of Pivot Tables
Scatter Plot is used to show correlation between two variables (example customer satisfaction and revenue growth).
Waterfall chart to show variance from one point to the other (example: Change in production from one period to the other).
Learn about Waterfall charts in Excel
Histogram to show the frequency distribution of data (Example: Employee salary ranges).
Learn more about data visualization please refer out blog: Data visualization with excel charts
Logical Layout
The dashboard should have a logical layout. Placement of charts in a logical order is equally important as selection of relevant KPIs and right charts. An organized dashboard helps the audience grasp the information easily. If the charts are not organized in a logical order, the audience would have to spend more time on them and think about the message delivered by the dashboard.
The layout should be such that the most important information should be provided at the top, trends and comparisons in the middle and more details (if required) at the bottom.
It should follow the Pyramid principle, followed by top consulting companies to communicate information to their clients. The most important message at the top, followed by supporting analysis in the middle and more granular details at the end.
This format saves time by helping executives get the message fast and understand the data behind it easily.
If you want to learn more about the Pyramid principle, please refer our blog; The Pyramid Principle of Communication.
Keep things Simple and consistent
There are several options for charts, controls, designs etc. available in excel and other visualization tools. We may be tempted to use all of them at once. Try to keep things simple. Use limited options as required. Overuse of charts, borders, controls etc. may make it confusing for the audience.
Learn How to Build a Financial Model
Round off the numbers in your dashboard. Rounding off the numbers helps audience retain the information. For example, $ 1.5 Million is much easier to read and understand than the absolute number $ 1,496,786.34.
Check out new features on PowerPoint Training Courses.
Use contrasting colors for background and texts. Restrict yourself to few colors. Keep the color selection consistent across all charts. Ensure that the charts, text boxes and other shapes are properly aligned.
Use consistent labels and data formats for all charts in the dashboard. The font size should be at least 12, so that it is easily readable by the audience.
Ensure that there is enough "white space". Avoid unnecessary text/graphics to fill the "white space". Do not consider "white space" as blank space. It is as important as Charts on the dashboard.
Do not put too much data on a single chart. This will make it difficult for the audience to grasp the information.
Summary
In short, the dashboard should be simple, should have the right visuals and have a logical flow. It should be prepared keeping in mind the target audience.