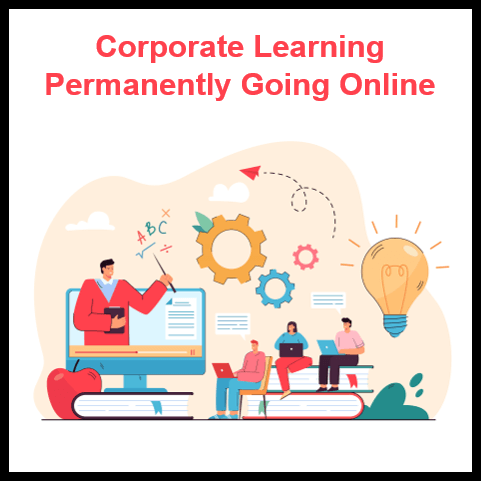 Corporate Learning Goes Online: A Comprehensive Guide from Skillfin Learning
2020 March…. a deadly virus…name coronavirus or COVID…. quarantine…lockdown…. pandemic……sudden breakdown of every system that was termed normal actually ushered an era of marked shift and rejigging of every aspect of our lives. The paradigm shift that was visible and totally unimaginable before this time was in the business and education sector. No one ever could imagine that corporates, industries and education can operate remotely. But it happened. Though major rearrangements done at that time were off the cuff with a belief that it is just a matter of some time. Today almost after a span of two years still, mankind is not free from the looming perils of COVID. So, speculation is on the rise about whether the reorders done earlier mostly as stop gap arrangements becoming an aspect of permanence. Actually, a lot of debate and surveys conducted in the recent past imperatively indicate how the concept of remote or online is taking a solid shape and gradually seeping into the mainstream fundamentals of life. The business landscape, the corporate system is what that is undergoing a series of metamorphoses over these two years to adapt to the changing new normal.
The transformation in corporate training has been quite pronounced across many organizations over the last several months. The global COVID-19 situation and sudden remote working patterns pressed the need to reskill or upskill workforce.It also became pertinent to rethink and redesign the training needs, methodologies and organisational goals. Learning Designers and architects were asked to curate L&D programs in such a way to make it more inclusive for employees taking them remotely from home.The experts brainstormed hard and came out with some unique and novel ideas to impart training and cater to the skill gaps and training needs of the employees. Though these ideas were thought off as makeshift temporary reinventions, yet currently after a span of almost 2 years, the mode of online training is what is becoming the new solidified trend. There is actually surmise among many that corporate training or learning will never return to classroom facility. According to an article in Forbes, Corporate Education Will Never Return To The Classroom postulates about the apparent end of in house in person classroom training across corporates.
Though it is still a matter of conjecture and corridor of uncertainty regarding the change in the educational landscape. However, multifarious thoughts and reflections do have certain solid reasons to support this supposition that have high chances of becoming the neo reality in the coming times. In my article, I have tried to bring together few assorted points related to shifts in learning and training formats ever since COVID. These shifts can be enough boost for corporate to permanently settle with idea of online learning and training designs.
CURTAILED LUXURY EXPENSES
Earlier a corporate training or education program used to be a grand event. It used to be few days event majorly held at ouch and exotic hotels or learning studios with lots of lavish and extravagance attached to the same. Training for employees were more of like having a mini vacay, chill outs and retreat with seldom a very little impact on the learning outcomes. Lot of expenses were budgeted for air travels, accommodations and hiring learning coaches. Also, there were loss of work with a chunk of employees staying off from office. Post COVID, when L& D programs became a virtual phenomenon, soon the corporates realised the amount of expenditure that can be saved with the trainings going totally online.
Learning outcomes had been always a matter of concern in the pre COVID times. So, learning curators tried to rethink priorities and reformulate online learning content and designs.They realised that in comparison to earlier format of one format fits all approach training is what pushed or pressed disinterested employees for the training. It was mostly reflected in the low graphs of the learning outcomes. This made them to address this issue by modifying the training approaches. They started customisinglearning programs asking the employees to drive more engagements. The shift towards participant pull rather than learning push in online model has generated positive outcomes. I believe employers will not be eager to reverse the results by again going to in house classroom training mode.
FOCUS ON RELEVANT CURRENT SKILLS
With the pervasive impact of pandemic, entire business structure forced to operate majorly remotely have opened many new breakthrough visions in many aspects of business…skill-building being one major area. Earlier any training was indicated to build future skills unlike today where companies have noticed the importance of 'skills for now' rather leveraging the skills for tomorrow.Many EdTech companies have plethora of skill specific online courses. Many corporates do associate with these educational forums to upskill their workforce. These platforms are also trying their best to establish their strong foothold in the educational arena in the online segment. So, they do come out with variety of employee friendly, relevant customised courses that can bridge the skill gaps.
Earlier, the thought as well as the execution of a training program used to be a myriad task. It was no less than a film production, where a dedicated department used to work round the clock curating content, developing high quality content videos perfectly edited, lots of animated exercises, simulated on hands practical applications and so on. Then came the allied tasks of employee travels to a location, air bookings, hotel reservations, hiring coaches and making suitable arrangements to upkeep the motivation during the training phase. With COVID hitting, there came an absolute break in these professionally perfect and chic training arrangements. Instead, in online training modecontent videos were made at home with smartphones or some apps, simple editing was introduced. More focus was given to create a training that can have a more personal touch and more engagement and a solid learning outcome. Like—seeing the coach imparting lessons from his/her home rather than in a polished convention centre. Employees are free to take up their learning modules as per their convenience without hampering their work schedule.
MORE BOUNDARYLESS OUTREACH
Corporate learning going online have opened avenues for more inclusion of employees across varied geographic locations. Mostly learning sessions are conducted on virtual platforms like Zoom, Teams, Google Meets, etc. So, this helps employees stationed even at remote locations to take up the benefits of learning. Earlier, many employees failed to join the trainings when the later demanded in person attendance. One targeted learning program can cater to training needs beyond several geographical locations. Employees do sign up for sessions at odd hours as per their convenience. The virtual platforms are becoming successful in creating newways of networking, peer learning, connection and culture —a shift to a more boundaryless approach.
"The learning space is redefined. We live in a fast-changing world and the way we learn will always evolve. Post COVID, we open up a whole new world of possibilities that allow us to challenge the status quo, and help us better respond to challenges. It's time that we start reflecting on how we do things and adopt new ways of delivering learning to make a difference in the workplace"…..edapp.com