The key to effective asset management is being able to track assets and know their location at any given time. This may seem like a no-brainer, but many companies struggle with the best ways to implement a streamlined asset management strategy that works for them. They either have too many fragmented processes or one big mess of spreadsheets that need better organization.
Operating an organization without an organized system for tracking your assets means you are more prone to inefficiencies, unplanned expenses, and unnecessary risk. Without an asset management strategy in place, you could lose track of expensive equipment, tools, machinery, or other assets that can be costly to replace if they are lost or stolen.
You also might not have ready access to information about their maintenance history or replacement costs which makes it more difficult to make decisions about when new ones should be purchased or leased. If you're looking for some tips on how you can establish a plan for an efficient asset management system in your company, read on for some great ideas and examples of what it might look like.
Define Your Asset Management Strategy
The first thing you should do is create a clear definition of what asset management is, how it will be done, and why it's important to your organization. This will help you to gain a better understanding of the challenges you will face, and make it easier to come up with ways to overcome them.
When it comes to asset management, it's best to be proactive rather than reactive when it comes to maintenance. This means you should always be looking out for signs of potential problems, as well as when items like computers, cars, or machinery need to be replaced or have come to the end of their useful lifespan.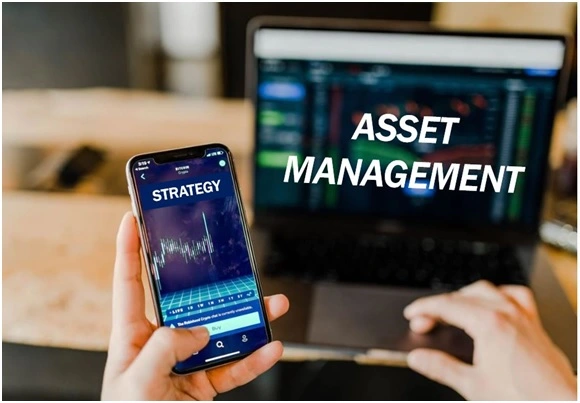 Image Source: https://marketbusinessnews.com/best-practices-asset-management/208075/
Decide Where to Host Assets and Why
When it comes to deciding where to host assets, you'll want to make an inventory of all of the different types you have and determine their best location. For example, you'll want to keep machinery, tools, and computers in a safe location that is not easily accessible by the public.
For items like furniture and smaller items like computers, you'll want to decide whether it makes more sense to host them in an offsite or co-working facility or in your own office building. You'll also have to decide whether to make them available for individual use or whether they should be assigned to a specific person.
Create a Tracking Process and Technology Platform
When creating your asset tracking process, you'll want to address both ends of the spectrum. On one end, you'll want to make it easy for employees to track assets, input information about them, and schedule maintenance and repairs. On the other end, you'll need to have a system for keeping track of where the assets are located at all times and enabling the right people to access them.
When it comes to technology, you'll want to determine which platform is best suited for managing your assets. You can choose from on-premises software, cloud-based solutions, or a hybrid approach that utilizes both. There are a number of things to consider when choosing a platform—including the number of users and devices, ease of use, scalability, and integration with other software systems.
Identify Where the Organizational Slack Is
Asset management is all about making the most of your existing resources, but there may be areas in which your organizational slack is being wasted. For example, there may be bottlenecks in your tracking or inventory processes that are causing delays in getting information about assets or scheduling repair and replacement windows.
You may also have a lot of manual data entry that could be streamlined with better organization and processes. If your company is like most, you have some organizational slack that's not being used to its fullest potential, which means you can make improvements to your asset management strategy without needing to add new resources.
Come Up With an Action Plan
Once you've identified areas in which your asset management strategy can be improved, it's time to come up with an action plan so you can get it done. The best approach is to start at the beginning and work your way through each step, ensuring things are done properly and in the right order.
For example, you should start by conducting an audit of your existing assets and making note of any that are missing or need to be replaced. Next, you should focus on creating a central repository for information about all your assets, and putting in place tracking software that will make it easy to locate them at all times.
With all of this in place, you'll be able to effectively track your assets and schedule repairs and replacements when necessary. This will help to prevent unexpected costs, facilitate better decision-making, and prevent unplanned downtime for your organization.
Establish a Central Repository for Inventory Information
A central repository for information about all of the items in your asset management system is key to having an effective tracking system. This will make it easier to track down information when necessary, and it will help to establish a culture of accountability when it comes to asset management.
When creating a central repository for information, you should start by creating an easy-to-use asset management form that makes it simple for employees to log in information on their assigned assets. This can include things like the serial number, date of purchase, purchase price, repair history, and estimated value. It's also a good idea to make the system flexible so that employees can track other types of information, such as where items are located, who is using them, and what type of maintenance they need.
Track the Location of Assets at All Times
One of the best ways to ensure that you are managing assets effectively is to track their location at all times. This means that you should have a central database where you can log the location of all your assets, and you should make it easy for employees to access this information.
When logging the location of assets, you should include as much information as possible, including the name of the person who currently has them in their possession, where they are located, and why they need them in the first place.
This will make it easy to quickly find the information you are looking for, and it will help to prevent assets from getting misplaced or loaned out to the wrong people.
Conclusion
Asset management is an important part of any business, and there are many benefits to having a streamlined strategy in place. This can help you to prevent unplanned expenses, facilitate better decision-making, and facilitate better decision-making.
It can also help you to prevent unplanned expenses, avoid unnecessary risks, and facilitate better decision-making. However, change often takes time, and it can be difficult to implement new strategies that work for your organization. It's important to remember that change doesn't happen overnight, and it can often take time to see results.