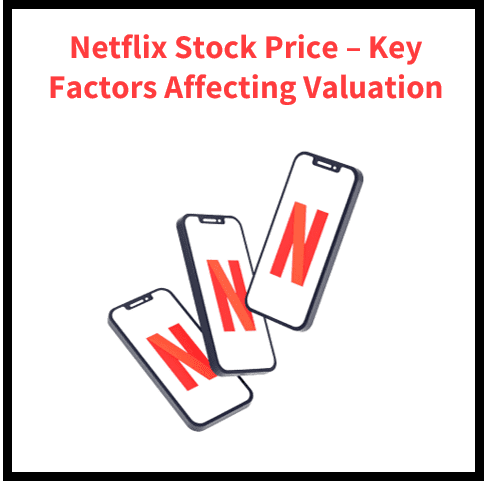 NFLX Stock Price: Key Factors Affecting Valuation
Netflix (NASDAQ : NFLX) is the talk of the town in the markets over the last few weeks. Why?
On March 29th 2022, the stock price was around USD 391.82 per share which closed at USD 199.52 apiece on April 28th, 2022. So that's a massive drop in its overall valuation by almost 50%. To give you a sense of the numbers, Netflix total market capitalization has been reduced by almost USD 85-90 bn over this time frame. Well, that's the reason why so many financial analysts are talking about Netflix recently.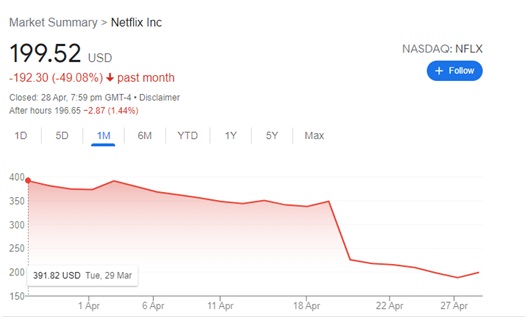 Source: Google.com
The question is what has triggered this drop? If you see in the same graph above, the major dropped happened in its share price on April 20th where there is a steep downward fall. Well, this was the day when they reported Q1 2022 results to the markets which was not very impressive. The main disappointment came from the fact they lost paid subscribers in all their regional markets except Asia-Pacific. This has not happened before in the last 10 years except for the quarter of June 2021 when they lost paid user base only in the US and Canada (UCAN) markets.
So, how many subscribers did they lose?
We did a quick deep dive in the reported Q1 2022 financials as reported on their website and this is how the data looks:

Data Source: https://ir.netflix.net/financials/financial-statements/default.aspx
So in this chart above, we see that that they have lost around 636k subscribers in US and Canada market, 303k subscribers in EMEA and another 351k in the LATAM market. APAC has kind of balanced it with net new additions of 1087k users but it was not enough to see an overall decline of almost 203k paid users globally.
Why is this a big deal?
You may wonder if such a small drop in user base is reason enough for the stock to react so adversely. That is a fair question. Let us try and understand this with some valuation principles.
Any company valuation is fundamentally dependent on the future cash flows in the business. The higher the future cash flows that the company can potentially generate, the better it is. Cash flows is in turn a function of Revenue Growth and Profitability Margin of the company. We would argue that fundamentally the higher the growth and profitability, the higher is the company valuation in the markets.
If we apply this principle in the case of Netflix, a reduction in its paid subscriber base directly affects it Revenue Growth rate potential. Revenue is a function of number of paid subscribers that Netflix has and the Average subscription price per subscriber per month that the user pays. So, for the Revenue to grow, either or both these drivers should increase.
In a streaming subscription business like Netflix, the ability to keep on increasing the subscription price every quarter is limited. This is a very competitive space with other players like Amazon Prime etc who are very aggressive in their pricing strategy. As such, Netflix will find it very difficult to compete on pricing with these competitors. In fact, in one of their high growth markets i.e. India, they have recently announced a price cut in their subscription service.
With pricing increase relatively difficult to achieve in this competitive space, the only driver to grow revenues aggressively is then showing net new additions in paid subscribers. Now the fact that the paid subscribers are not increasing in most the markets (as we saw earlier), the resultant effect of that translates into very moderate or almost zero growth in revenues. That is not good news for Netflix given that the stock price typically factors in a 15-30% growth in future revenues. As against the market expectation if the revenue growth slows down for Netflix, it will lead to a significant drop in the company valuation which is why we saw almost a 50% drop in the price in the last 1 month.
In Netflix's case, if it is a one time drop as will have to be seen in the future financials, then the valuation can quickly reverse from here on. But if this is something that is structurally the case (more like the case given there is abundance of content available at cheaper prices), then there is a significant headwind in valuation in the coming quarters as well.